Videos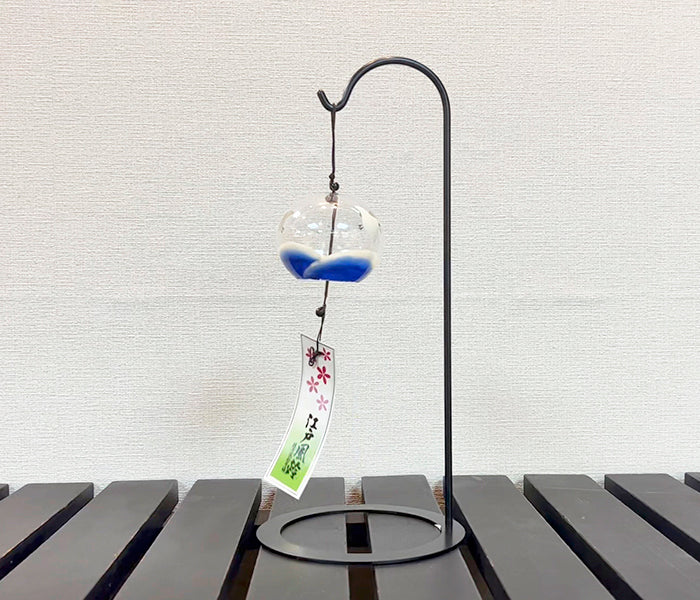 Quick Shipping Guide
To check more detail, please click here →
Quick Shipping Guide
【Delivery date】
Please be aware that customs clearance times may vary depending on the country and the product.
USA, UK, and Europe:
5 - 7 days
Canada, Australia, and New Zealand:
5 - 14 days
Asia:
3 - 7 days
Small islands and remote areas:
1 month
【Customs】
Customs duties may apply depending on the delivery destination.
Please check the Shipping Policy before you purchase.
U.S.A.
There may be customs duties when the purchase amount exceeds $800.
UK
All commercial goods valued at £135 or more will be subject to UK VAT.
Europe
All commercial goods will be subject to VAT, regardless of their value.
Description
Bird, Plover itself is used in Haiku poem as a seasonal term for winter. People in Heian period (794-1185) incorporated the image of winter and the desire to stay cool in the hot summer. It also represents peace and prosperity in households. By painting water and birds together, the wind bell expresses the coolness in summer and peace and prosperity in wind bells.
Wind-bell (Fu-rinn) have been manufactured for thousands of years as amulets. With the introduction of glass-making techniques in Japan in the Edo era(1603-1867), manufacturers started to use glass for wind-bell which have steadily gained popularity for their cool sounds.
Now they have become one of the common features illustrating the Japanese summer.
This product is carefully made one by one. Craftsmen adhere to the traditional manufacturing method established in the Edo era and remain the leading maker of glass wind-bell. They maintain the highest precision through every step of the process to ensure the quality of the wind-bell.
In hot and humid summer in Japan, we still believe the prodigality of nature is a gift. Invisible summer breeze creates cooling resonance and softens the heat of summer by Edo Furin.
The soothing sound and ambiance of Edo Furin will share the peace, nostalgia, and richness of nature with you and then they will enrich your life in spades.
You will often be found hanging from the balconies and porches of Japanese houses in summer. You can also share the harmony of winds with your neighbor.
Attention
Please note that since each product is handmade, there are individual differences.
The most prominent feature of Edo Furin is its sound. The edge of Edo Furin is left jagged intentionally!! It may cut or scratch your finger. Please be careful when putting the product out of the box.
Every single Edo Furin is all hand-blowing by craftsmen. It is very delicate and easy to break.
You will be recommended to cover it with something like bubble wrap and place it in the box when not in use.
【Specification】
・Material/ glass
・Size/ Φ7×H6 cm
・Weight/ 80 g
・Made in Japan
Wind Bell Iron Desktop stand
This stand is exclusively for glass wind-bell. It is made of iron, so it is stable. You can carry the beautiful sound anywhere in your house.
【Specification】
・Material/ Iron
・Size/ W16×H37.5cm
・Weight/ 240 g
・Made in Japan
Product Type: HOME DECOR
Collection: ORNAMENT > Wind Bell
Collection: EDO GLASS
Payment & Security
Your payment information is processed securely. We do not store credit card details nor have access to your credit card information.
Customs Clearance Fees
If your destination address is outside Japan, you will be responsible for any fees, duties, or taxes required by the local authorities. These are outside our control and are NOT included in the purchase price.
Gift Wrapping Is Not Available
Since your parcel may be opened by your local customs authority, we do not offer gift wrapping. For more information, please refer to our Shipping Policy.
COMING SOON!
Don't miss out on our exclusive sales!