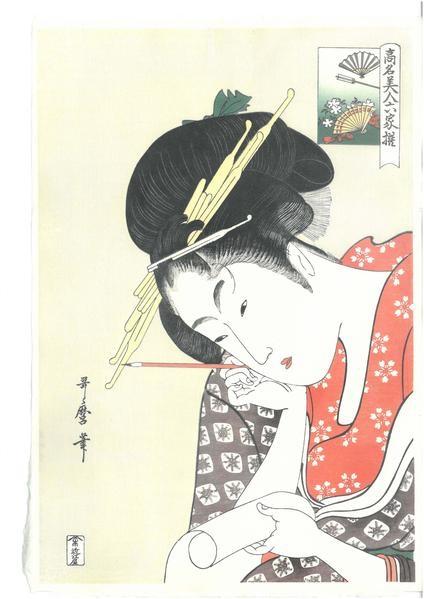 Utamaro was a Japanese ukiyo-e artist who was active in the late 18th century. He is considered one of the most significant masters of the ukiyo-e genre, particularly in the realm of bijin-ga, or portraits of beautiful women.
Born in Edo (present-day Tokyo), Utamaro's real name is not known, but he is believed to have been born around 1753. He apprenticed under the printmaker Toriyama Sekien, but later developed his own style, which was characterized by delicate lines, careful shading, and attention to detail.
Utamaro's portraits of beautiful women were extremely popular during his lifetime, and he became known for his ability to capture the essence of his subjects' personalities and moods. His works are also notable for their use of color, particularly shades of pink and red.
Despite his success, Utamaro's career was not without controversy. In 1804, he was briefly imprisoned for creating prints that depicted the Shogun and other officials in an unflattering light. He was released after a few weeks, but his career never fully recovered.
Today, Utamaro's works are highly regarded for their technical skill, beauty, and historical significance. Many of his prints can be found in museums and private collections around the world, and his influence can be seen in the work of later ukiyo-e artists such as Hiroshige and Hokusai.